Nissan Rear Door Alert Now Available on 12 Models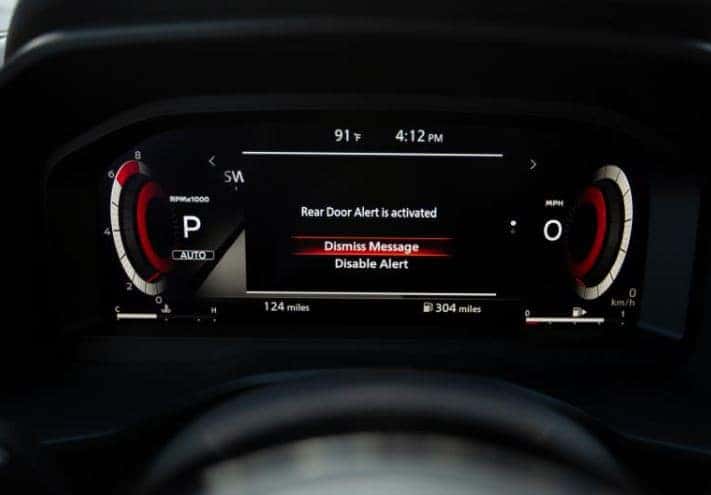 Nissan Rear Door Alert in 2021 Rogue. Photo Courtesy: Nissan
Safety is a top priority with Nissan, which continues to demonstrate commitment to bringing important technologies more available than ever. Rear Door Alert (RDA) is the system that uses door sequence logic, the center instrument panel message display and multiple horns honks to remind drivers to check the rear seat after it is parked.
Currently, Nissan RDA is standard on 2020 models such as the Altima, Rogue, and Pathfinder. According to Nissan, RDA technology is expected to be standard on all four-door trucks, sedans and SUVs by 2022.
After first being introduced in the 2018 Pathfinder, RDA has continued to impress drivers, especially those with children. The system, which was designed by a pair of mothers as well as Nissan engineers, was inspired by Nissan's "culture of innovation."
The system was the first of its kind to use to horn, in addition to door sensors and a message display on the center instrument panel. Once activated, the RDA monitors when a rear door is opened and closed before and after the vehicle is in motion. If a rear door was used before a trip but was not opened after the vehicle is parked, the system reminds the driver to check the rear seat. RDA can also help reduce risks posed by dangerous interior car temperatures. Now that summer is in full swing, this feature is incredibly useful.
"I'm proud to see Nissan lead the way by making Rear Door Alert standard on more models," said Nissan's Mechanical Engineer, Mendoza. "What started as a chat with my colleague, Elsa Foley, is now innovative technology being adopted in more Nissan models. It is a testament to Nissan's culture."