What Exactly Is Nissan Safety Shield 360?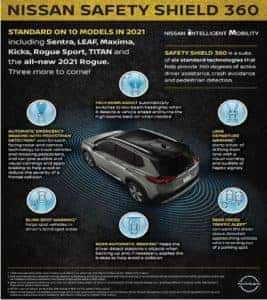 Recently, Nissan announced that its technology feature, Nissan Safety Shield 360, would be standard on 10 models starting in 2021. So what exactly is Nissan Safety Shield 360 and what does it do?
Both Nissan and INFINITI offer Safety Shield 360, which is a suite of advanced driver-assistance systems, that use electronic aids to provide drivers with more comfort and safety. Using cameras, radar units, and other sensors, a vehicle with Safety Shield 360 can maintain the speed of traffic and stay centered in a lane with minimal oversight from a driver.
According to Nissan, Safety Shield 360 supports the Nissan Intelligent Mobility vision to redefine how cars are driven, powered, and integrated into society. The suite of advanced driver-assist systems includes Automatic Emergency Braking with Pedestrian Detection, Blind Spot Warning, Rear Cross-Traffic Alert, Lane Departure Warning, High Beam Assist and Rear Automatic Braking.
"Our philosophy is to bring Nissan Intelligent Mobility technologies to market in our most popular and affordable vehicles," said Denis Le Vot, chairman, Nissan North America. "Safety Shield 360 combines six advanced systems to give models like Altima and Rogue a class-leading package of technologies that can improve safety and the overall driving experience for Nissan owners."
When it comes down to safety, Safety Shield 360 has a significant impact. In fact, according to the Insurance for Highway Safety (IIHS), cross-traffic alert reduces crashes by 22 percent; the combination of rearview cameras and sensors reduces crashes by 42 percent, and adding rear emergency braking reduces crashes by 78 percent.
Nissan Safety Shield 360 is currently standard on Nissan Rogue, Nissan LEAF and Nissan Altima.